Your special trip to the Land of Smiles deserves some special offers. The Solitaire provides you a number of deals and promotions to make the most out of your stay in the City of Angels. Explore our offerings below, and discover how you can save on your tropical holiday.
Discover the Solitaire's latest discounts and promotions.
Last Minute Special. Breakfast on Us.
---
Book your last minute trip to Bangkok, and experience everything the City of Angels has to offer.
Pay room only rates and have breakfast on us. 
Website exclusive!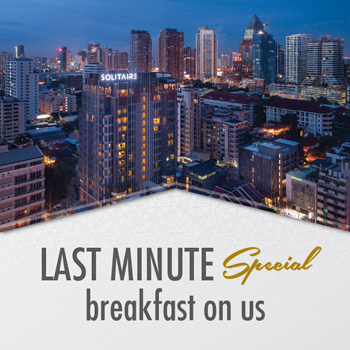 Jacuzzi Suite.  Lover's Package.
---
Special getaway for two.  Enjoy a dinner on your private balcony or soak in the tub with city lights twinkling in the distance.
Stay Longer. Save More. Free Airport Transfer.
---
Explore more of Bangkok's attractions when you stay longer. Discover exotic temples, world-class nightlife, magical night markets and more of Bangkok's hidden gems.
Book a two or three night stay, and save up to 12% and enjoy a free airport transfer.
Book Early. Save More
---
Book your holiday 30 days in advance, and gain maximum savings on Sukhumvit's newest  hotel.
Book now to save up to 15%.
Ladies Night at On The Rocks Bar.
---
Every Friday  9 PM – 2 AM first two drinks FREE inclusive of snacks, 50% off on your next drink at On The Rocks Bar.
Happy Hours Buy 1 Get 1 Free
---
It's happy time! Every day buy 1 get 1 free at Club Sky Lounge from 5:30 PM – 8:00 PM,
at Aqua Bar from 5:30 PM – 8:00 PM,
at On The Rocks Bar from 5:30 PM – 8:00 PM and Midnight – 2:00 AM
Mild Nawin and Binn live at On The Rocks Bar
---
Solitaire Bangkok located on Sukhumvit 11, is proud to present a young award-winning Thai diva, Mild Nawin, along with a young Thai guitarist, Binn; they will entertain you and keep you dancing all night long.
Join us every Saturday from 8:00PM – 11:00PM
and enjoy a 20% discount on all drinks.
Watch her previous show; https://youtu.be/8uf2CgRiNUU
Call now for reservation and information at 02-081-3999 ext. 6612
Become our Fan on Facebook: www.facebook.com/ontherocksbar11
"Fantastic 4", Super bowl cocktail available now at On The Rocks Bar.
---
With cocktails, bigger is better! The newly opened "On the Rocks" lobby bar at Solitaire Bangkok
on Sukhumvit 11 invites you and your friends to an evening of fun and laughter with the Fantastic 4.
Containing almost a liter of cocktail in jumbo glasses fit for two or more. Choose from 1 of 4 cocktails
– Amber, Ruby, Emerald and Sapphire.
Available in two sizes: L at THB 499 net and XL at THB 799 net, includes unlimited snacks.
Hit'em now at On The Rocks Bar, Solitaire Bangkok, Sukhumvit 11 every day from 5:00 PM to 2:00 AM
Call now for reservation and information at 02-081-3999 ext. 6612
Become our Fan on Facebook: www.facebook.com/ontherocksbar11